DURATION: 01.12.2022 to 30.11.2026

BUDGET: 443,500.00€/ 3,994,479.75€ 

FUNDING: HORIZON-CL6-2022-ZEROPOLLUTION-01-04, Clean environment and zero pollution, RIA.
ABOUT TODRINQ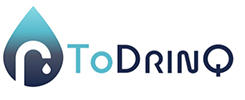 ToDrinQ: TOolkit for aDaptable, Resilient INstallations securing high Quality drinking water, is a 4-year Horizon Europe project, under the "Clean environment and zero pollution" call. 
The overall objective of ToDrinQ is to support the implementation of the revised Drinking Water Directive and to significantly enhance the scientific and technical knowledge on drinking water quality protection, monitoring and treatment by developing and testing a compendium of modular complementary innovations including novel real time sensing and water quality parameters technologies, innovative treatment processes and interoperable, easy to deploy decision tools that support resilient, evidence-based treatment plant design and improved overall water system operational awareness and risk-based response. 
The ToDrinQ Toolkit aspires to increase the resilience of drinking water systems in terms of both increased robustness (against short term stresses) and adaptability (against longer term uncertainties) and ensure high-quality drinking water, minimizing micropollutants, pathogenic micro-organisms and disinfection by-products (DBPs).
KEY OBJECTIVES
To correctly identify needs and to co-create with end-users, innovative tools to protect drinking water sources, treatment, and supply against harmful effects of global and climate change. 

 

To drastically improve the scope and speed of water quality monitoring systems regarding contaminants of emerging concern by developing and deploying innovative cost-effective water quality sensors (hardware and analytical methods).

 

To enhance the situational awareness and real-time monitoring capabilities of drinking water system operators assessing parameters that are difficult to monitor directly, such as micro-pollutants, pathogenic micro-organisms, disinfection by-products as well as state and performance parameters of the system and the treatment plants that need to be inferred from direct measurements.

 

To support drinking water utilities and designers of modular, adaptable systems to conceptualize cost effective, robust and adaptable treatment systems that can reduce the design and construction costs of such plants, and diminish the formation of DBPs

 

To increase the EU scientific and technical base, by openly disseminating advanced knowledge generated including through OPENAire and EOSC-marketplace (open science) and by developing alliances to enable effective post-project exploitation through Living Labs.
OUR ROLE IN THE PROJECT
In ToDrinQ, our role is to:
Identify the needs and design of soft sensors for water quality monitoring and performance improvement, towards the development of a framework, encompassing alternative flow charts of data fusion processes for target parameters of direct relevance to operators
Identify and process data sources for soft sensor inputs, exploiting COPERNICUS and ESA datasets and via the development of data pre-processing analytics tools
Deep Learning Module for Soft Sensors via the development and testing of an ecosystem of services for data fusion for soft sensors targeting parameters 
Development of Reinforcement Learning Module using as basic input from both soft sensors and direct sensors to advise operators on possible improvements in the operation of DWTPs.
Develop interoperability standards building on FIWARE protocol and integrative visualization dashboard (NESSIE) as part of an Integrated modular platform for Drinking Water Systems' monitoring and operational support.